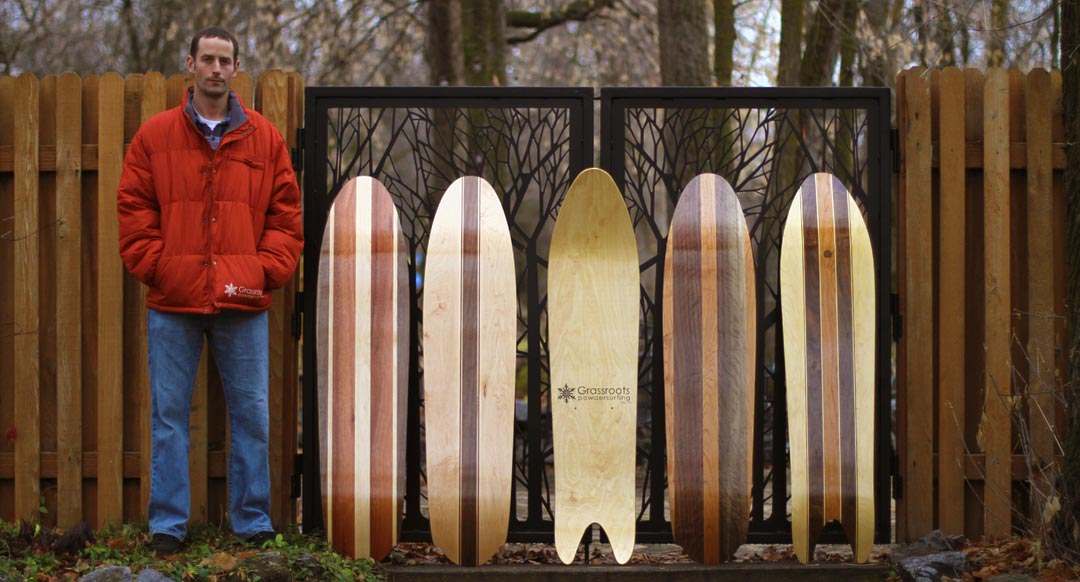 Many of these babies were actually handcrafted over a year ago and they were just too beautiful to let go.  I am a bit of a hoarder when it comes to powsurfers, my house and walls are littered with them. It drives my wife absolutely crazy. Fortunately she sees the long hours and sleepless nights that I pour into this passion and she recognizes the unstoppable drive I have to get outside and rip as much pow as humanly possible. It obviously makes me happy and it is part of who I am so she puts up with it.
Sometimes I feel that I get carried away with designing and building things to be as functional as possible; ptex bases, fully gripped topsheets with deep concave, shapes based on performance rather than just aesthetics, etc.  I want the boards I make to ride as good as possible, or else the experience is compromised.  I feel the experience is really what it is all about, more so than how "cool" the board looks. I work to blend the two, but often times my mind chooses function over fashion.
So I decided to take a break from my normal attitude and focus on making something beautiful as priority one, but still make it ride great so as not to disappoint the rider.  They may not be as fast and as durable as our ptex based boards but they are gorgeous.. so much so that you may not even want to ride them for fear of scratching them.  Whether they end up on your wall or under your feet, these boards will certainly turn heads and put smiles on faces.
Check out whats available on the Grassroots Wooden Classics Page. Each of these are one-of-a-kind, personally handcrafted and signed.  I hope the lucky few who pick these up enjoy them as much as I have.  (wiping tears)
https://www.powsurf.com/wp-content/uploads/2013/09/JeremyWithWoodiesBetter.jpg
582
1080
Jeremy Jensen
https://www.powsurf.com/wp-content/uploads/2020/08/grassroots-powdersurfing-logo.svg
Jeremy Jensen
2013-10-18 05:11:21
2015-09-16 05:56:08
Grassroots Wooden Classics