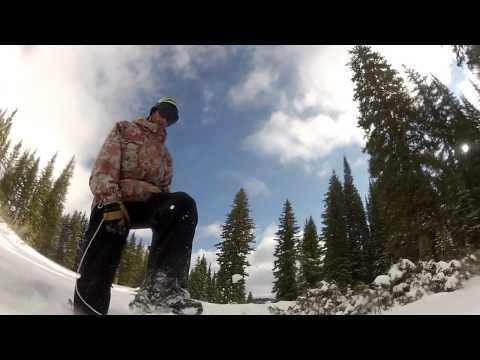 Mother nature hit the reset button
Just last week I was telling a friend that this years season came to an end sooner than any year that I can remember.  Well, it's not over 'til mother nature says it is and she just decided to deliver nearly a foot and a half of pow to the nearby mountains here in Northern Utah.  When the low clouds cleared out on a lazy and rainy sunday afternoon my eyes lit up at the sight of some surprisingly thick white stuff in the upper foothills.  I checked the snotel data and it was reading cold temps and 12 inches of snow and counting!
I pulled out my gear and got on the phone to some friends.. I'm all about these bonus pow days and I would feel guilty if I didn't seize the opportunity.  At first light the next morning I was on the road, the contrast of the green trees and hillsides covered in fresh white snow made for an awesome drive.  I left a bit earlier than the rest of the crew cause I know that May powder has a really short shelf life, and it turns to muck in a hurry.
CHECK THE QUICKIE VIDEO RE-CAP!

Rolling with a quiver for some late season R&D testing
First run of the day was the real deal.  Light and dry powder
Our powder turned into coastal style muck in less than an hour but still made for some great turns
There was practically no base under the new snow so navigation on the sleds was a bit tricky.  Luckily I had tried to go riding a couple of weeks ago so I knew where the remaining ribbons of snow were at.  I buzzed up to the top and managed to hike a couple of quick laps in the upper fields before anyone else arrived.  I could feel the snow getting thicker every run.  Any direct sun this time of year puts a quick damper on the powder slashing.  So when my friends arrived we sought out the most north-facing tree runs in the area and proceeded to throw around the powder and muck.
hucking some muck around on one of the Phish series boards
The B-line into the "G-spot" is a classic early season shot.. tight entry and high speed thru the apron. We were dealing with early season style coverage so this run was at the top of my hit list.
Grassroots Powsurfers dominate in the powder and the mush.  

 
DeJaVu – My powsurfing season started and ended in this exact spot.
As the day progressed snow quality plummeted.  Sunny spots became sticky and unrideable and the melting snow in the tree tops began raining down on the snow below.  That's May powder for you… it doesn't last long so you gotta be on time.   As a powsurfer, I couldn't be happier.  Instead of ending on a sour note (last week we were stranded by rocks and dry ground) we got a late season bonus dump and the powsurf season ended in style.  It's going to be a busy summer dialing in next years boards and accessories so I have a feeling that next winter will be here before we know it.
https://www.powsurf.com/wp-content/uploads/2012/11/0.jpg
360
480
Jeremy Jensen
https://www.powsurf.com/wp-content/uploads/2020/08/grassroots-powdersurfing-logo.svg
Jeremy Jensen
2012-05-31 15:12:00
2023-09-15 19:03:37
Memorial Day Powder & Mush