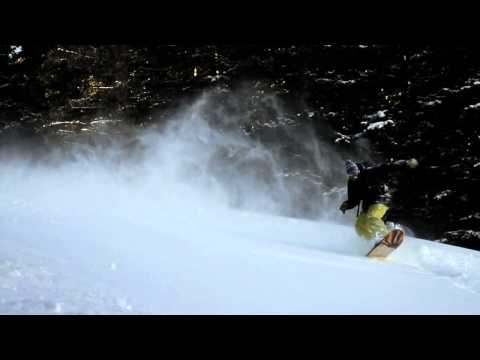 The solstice usually comes on the 21st of December but this year it fell on the 22nd.  I was delighted by this news because I had to work the day of the 21st and I wanted to celebrate properly.  Mother nature dropped 7 inches of the lightest and driest cold smoke she had to offer and served that up sunny skies and cold temps.  Perfect timing for an epic celebration.
We keep getting holiday e-cards sent to me from anyone and everyone… so we hopped on the bandwagon and made a quick little e-card from today's session.
It has been nearly a month since a significant snowfall and this seems to be the case across much of the US.  So the conditions are still low tide and the spots with good coverage and no old tracks are difficult to find but luckily we know just where to find them.
The attitude across the country seems pretty bummed on the conditions but honestly I have been enjoying the hell out of it.  Logged at least 20 good powder days so far and I have only felt the need to strap in once.  Until the big lines fill in.. I just don't see any reason to snowboard.
These early season conditions are a big part of what spawned Powdersurfing in the first place.  Being able to take advantage of the smaller features and maximizing the fun and the challenge keeps things interesting and fresh.  This is just one of the many advantages of Powdersurfing.  If you are not enjoying the season so far, you should probably consider investing in a Grassroots Powdersurfer.  It will change your life.
https://www.powsurf.com/wp-content/uploads/2012/11/02.jpg
360
480
Jeremy Jensen
https://www.powsurf.com/wp-content/uploads/2020/08/grassroots-powdersurfing-logo.svg
Jeremy Jensen
2011-12-22 15:57:00
2015-09-26 18:57:16
Merry Solstice!