Park City Backcountry Powsurf Sesh with JJ Thomas, Scotty Arnold, and Jeremy Jensen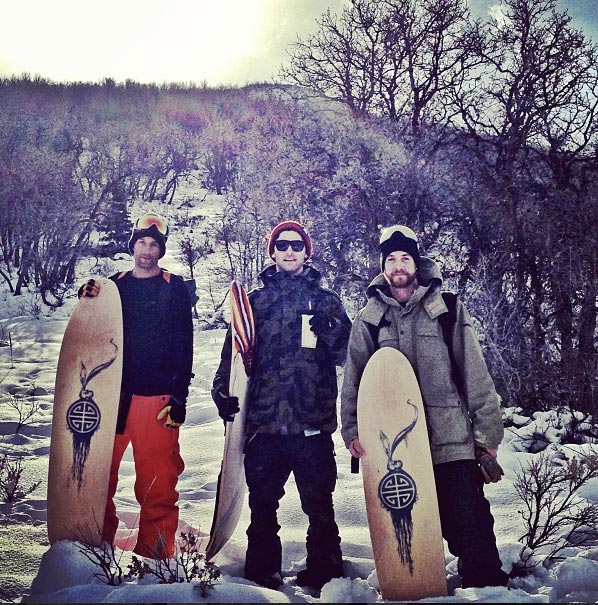 After a few big hammer pow days in the backcountry it was time for a mellow day.  I linked up with Scotty Arnold and JJ Thomas in Park City to check out a rad little surf zone that JJ's girl had found for us. Beth Anne has a good eye for powsurf zones!  The snow was shallow but we made the most of it and had a killer time slashing the gauntlet for a few runs and seshing the mini catwalk hits.
The 6 inch crusty "base" and 5 inches of fluf on top was pretty challenging but that's all part of the fun of powsurfing.  JJ and I rode the Powder Sluts and Scotty tried out the Bullet 140, a great board for riding shallow pow. We burned a couple quick laps and that pretty much tracked up the skinny guantlet run.  Stoked for that thing to fill in so we can give it a proper slashing another time.
JJ had to roll out and take care of his lady…birthday celebrations the previous night were taking their toll on the poor girl.  She was a trooper, guiding us to the zone and snapping some pics along the way. Big thanks Beth Anne!
Scotty and I poked around for some bumps to pop off of. We found a little catwalk trail that kept us busy for a couple of hours.  Simple pleasures!!
Shuvits were popped, and kickflips were kicked and stomped.
It was so much fun riding with these boys. So rad to see people just pick up powsurfing and start killing it..even in sketchy conditions.  Big smiles and big fun.  Thats what it's all about.
Scotty popped a big ollie and stomped a solid pop shuv after just a few tries.  The kickflip was next and he was determined to ride out clean.  He landed bolts numerous times and rode a couple out for a few feet.  Landing on ice and dirt is not easy.  The skills and determination that this guy has are gonna continue to blow minds for years in both snowboarding and powsurfing.  So stoked to have Scotty on board.
https://www.powsurf.com/wp-content/uploads/2012/12/InstaHam-GroupPC.jpg
605
598
Jeremy Jensen
https://www.powsurf.com/wp-content/uploads/2020/08/grassroots-powdersurfing-logo.svg
Jeremy Jensen
2013-01-18 03:04:38
2015-09-16 06:12:15
Park City Backcountry Powsurf Sesh with JJ Thomas, Scotty Arnold, and Jeremy Jensen