Season's Greetings! 2013-14 Season Opener.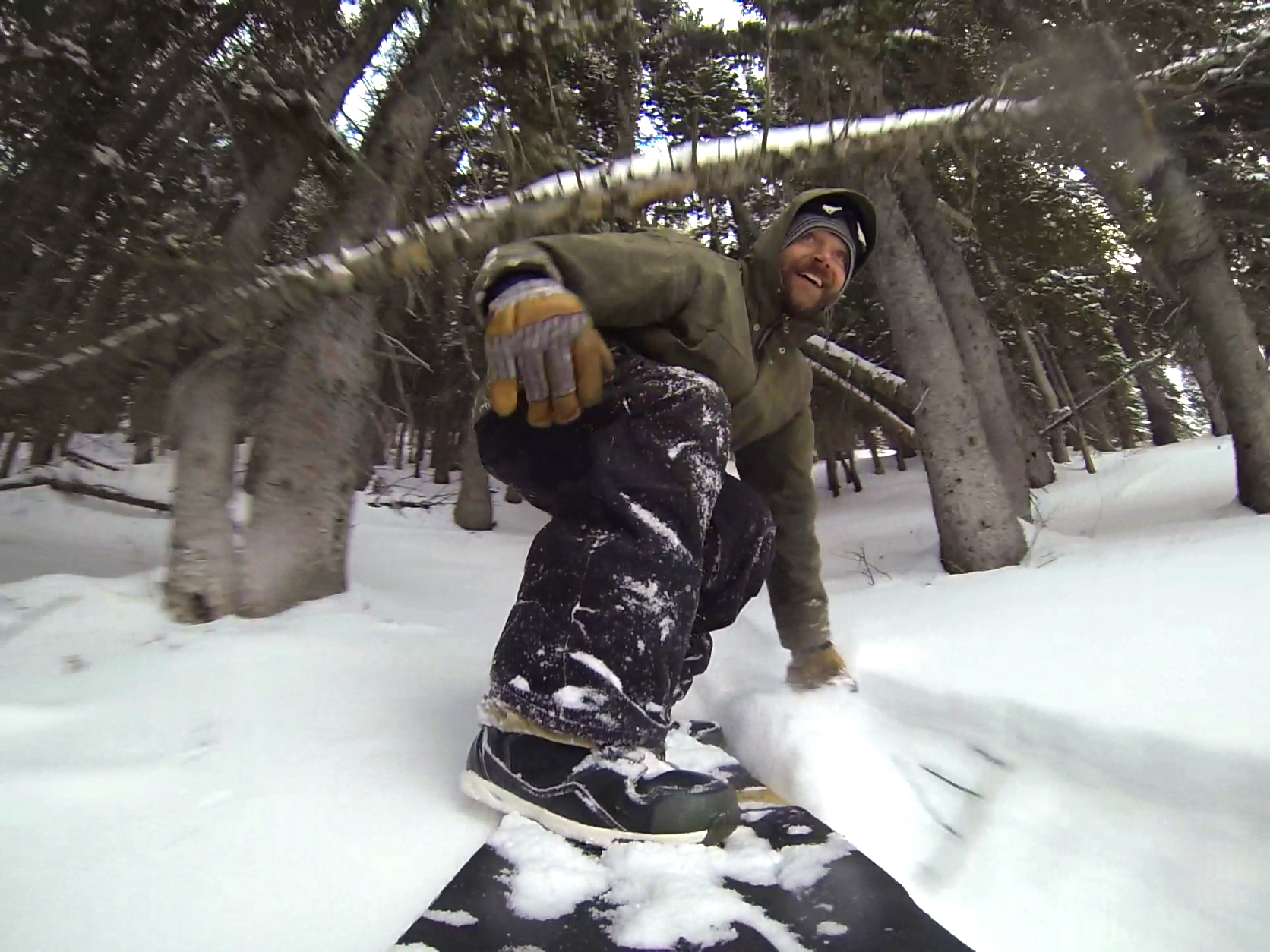 It seems we had to wait longer than ever before to get a taste of powder this year but as always it's well worth the wait.  It was mid November when finally a couple of feet blanketed our special zone that we have re-visited for the past 25 years. I learned to snowboard here nearly 25 years, I learned to powsurf here 14 years ago and it just never gets old.  So many nooks and crannies that hold special memories and continue to dish out great memories on every visit.  Welcome winter!!
Even 5 inches on dirt is enough to surf when you get the type of floatation that a Grassroots Powsurfer provides.  Weed Wackin'!
RC and I made multiple laps this day, making shallow slalom skateboard-like turns so we didn't scrape bottom.  So fun watching weeds explode before our eyes and challenging to control speed without taking any speed scrub turns.
Riding 5″ on dirt was a bit of a tease but fun nonetheless.  2 weeks later we got a real dump with 2 new feet to fill things in so we could really slash the pow. Still a bit thin for coverage but it's amazing how much fun you can squeeze out of just a little bit of snow.  That's part of the magic of powsurfing.
14 years ago Brandon Saunders and I brought up an old Winterstick Round Tail plus to this very zone for some of our first big binding free runs.  We were amazed that it was possible to link turns and so full of stoke and thoughts about the future and how we could make a board that would work even better. It was great to re-unite with Brandon and get him back on snow again.  This time on powsurfers  designed and shaped for this very thing.. Brandon was so hyped and amazed with riding boards that were designed for this very purpose.  Welcome back Brandon!
Dodging stumps, fallen trees, logs and rocks in the tight woods..scary but so much fun! That smile says it all.
What would an early season at the "sacred grove" be without a little fun in the campground?  We finished off hot pow laps with some pole jammin for desert.
https://www.powsurf.com/wp-content/uploads/2013/11/Brandon_low-NOV2.jpg
1254
1672
Jeremy Jensen
https://www.powsurf.com/wp-content/uploads/2020/08/grassroots-powdersurfing-logo.svg
Jeremy Jensen
2013-11-24 19:01:28
2015-09-16 05:53:41
Season's Greetings! 2013-14 Season Opener.