2020-21 Splitsurfer Pre-Order Details
Grassroots Splitsurfer – Split Powsurfer Options
(prices include 3D ptex base splitsurfer & all mounting hardware)
Standard top sheet and 3D ptex base – $849.90
Black on black (option to choose graphic or black ptex) – $879.95
Exotic wood top sheet (varies depending on type of wood) – $909.95 – $949.95
Our splitsurfers are available by PRE-ORDER only, although there is a chance we may craft a few extras to keep in stock for the season if time and resources allow. Orders can be made by emailing jeremy@powsurf.com with your information and your $200 deposit is due by September 30, 2020.
See quick videos of our splitsurfers in action here and here.
Please let us know what model, size and shape you would like as well as if you'd like to purchase our ascent bindings, skins or upgrade to Spark components. Continue reading below for details on models, binding options, skins and pricing.
We have a couple of binding solutions available, each with give and take in terms of lightness/packability/performance. We highly recommend our Grassroots Ultralight Ascent binding (compatible with voile hardware)($309.95) or the Spark R&D compatible Ultralight Ascent binding ($344.95). We have been testing these two bindings heavily over the past decade and we feel they are the best solution. Extremely light, easily packable and they are adjustable to fit any snowboard boot or powsurf boot. It is possible to use standard snowboard bindings (with the additional voile plate & pin for $60) on the splitsurfer but keep in mind that standard bindings are very heavy and too large to fit into most packs for the ride down. There's not much sense in carrying around all that excess weight and bulk. See more details and photos of binding options below.
Click to View Splitsurfer Binding Options
[/ezcol_1quarter] [ezcol_3quarter_end]
Ultralight Ascent Binding for Voile Interface = $279.95   
[/ezcol_3quarter_end]
[ezcol_1quarter]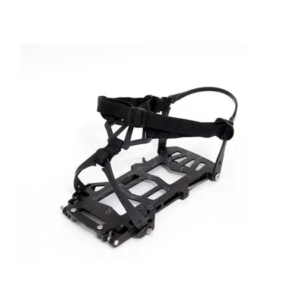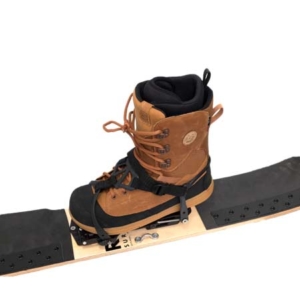 [/ezcol_1quarter] [ezcol_3quarter_end]
Ultralight Spark R&D Ascent Binding=  $334.95    
[/ezcol_3quarter_end]
[ezcol_1quarter]
[/ezcol_1quarter] [ezcol_3quarter_end]
Spark R&D Arc Bindings – Standard Straps and Highbacks = $385   
[/ezcol_3quarter_end]
[ezcol_1quarter]
[/ezcol_1quarter] [ezcol_3quarter_end]
Voile Light Rail Bindings = $275   
[/ezcol_3quarter_end]If you prefer your existing bindings we offer the following accesories:
Voile plates and pins for your own binding/straps = $60
Classic Splitsurfer – $849.99
Weighs about 1-1.5 lbs heavier than a standard solid powsurfer (approx 8-10 lbs depending on size and model)
Reinforced with carbon for strength and proper flex
Built with proper inserts for strength and to allow binding options/changes
3-dimensional sintered p-tex base
Includes Voile or Spark R&D toe and heel components and Spark R&D Crossbar clips
The "Classic" splitsurfer weighs only about 1lb-1.5lb more than our solid powsurfers. The Ultralight Ascent Binding's we offer are very light and extremely compact, stashing easily into any size of pack or even some pockets for the surf back down. These ascent bindings are for uphill travel only. Our 2019-20 Classic Splitsurfer comes stock with your choice of Voile or Spark R&D toe and heel components, depending on which type of binding you plan to use. Cost for the board is $849.99 and this does not include climbing skins and ascent bindings.
Climbing Skins
The Voile climbing skins are the best fit for our splitsurfers. Most other skins WILL NOT FIT. We offer the Voile climbing skins and tail clips for sale with our boards.  Voile skins with tail clips = $185  
Available Board Shape & Size Options
We personally recommend the 150cm Flying Carpet 3D or 140cm Flying Carpet 3D models as they are very versatile for the ride down and have the best traction on the way up. They are available in "standard" or "wide" options depending on your boot size and the conditions you ride in.
Other available shapes for 2020-21:
140cm Slasher 3D shape
150cm Megalodon shape
OTHER BACKCOUNTRY ASCENT OPTIONS
We have many backcountry touring solutions available on our webstore. Our Splitsurfer is a solution that will work great for some riders, but unnecessary for others. It really depends on the terrain that you frequent and the type of access you have. For tours that cover a lot of terrain and travel through very deep snow the split-surfer is a great solution. However, often times shorter roadside hikes and smaller sections of terrain can be lapped more easily on a boot pack for more bang for your buck. Use of Verts (special style of snowshoe available in our web-store) is the most efficient for these areas and use of a split-surfer would result in a lot of time changing modes and fiddling with equipment, whereas with a solid powsurfer and Verts you would spend that time riding and having fun. Another great solution for large ascents are the Drift Boards. These allow you to skin up and give you the freedom to pick whatever board from your quiver.